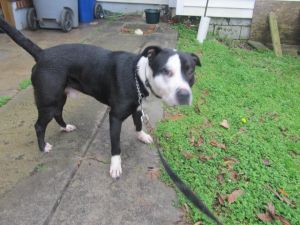 American Staffordshire Terrier
Spayed/Neutered
Up-to-date with routine shots
JOE is a very sweet, overgrown boy. He has a great love for babies and toddlers, so we call him our nanny dog. He is great with children, cats, and some dogs, once he is introduced properly. He is a alpha dog. He is good on leash walking. He is already crate trained and house trained. Joe is a American Blue Staffordshire Terrier weighing 65 pounds and lived his early months being neglected. Now he is ready for a real home where he can be your best friend for life. Fully vetted, neutered, and Micro chipped. Born around 02/02/2012. Joe has had advanced obedience training through toplinek9solutions look them up they are great and will work with Joe in your home.
Adult, Male, Large



Boxer, Rottweiler
Spayed/Neutered
Up-to-date with routine shots
ROCKY Yes he is 10 YEARS OLD but he is wiser that that health and strong, He reminds me of (Jack LaLanne and he juice add's being 84 with a body of a true fit body and competed in Triathlons.) He is the funny old man. Well let's just say he is one of a kind. He likes to be center of attention, looks for things to get into, you call his name as you catch him about to do something you think he should not and the way he looks at you he is saying "Whaaat". Like What did I do! He picks on a kind of person. The practical joker, who is always sneaking up behind someone to scare them and make them jump, Rocky knows who they are and like to be the one to make them jump. He really is a great boy. Alpha dog for sure, true Alpha as he leads the pack and makes sure each know their job and takes care of all. Rocky is a puller on the leash if you let him or can walk find on the leash. He knows sit command, great in public places, gets along with most any dog, may a little protective. Can and will be protective when needed for sure. Great dog for anyone. Good with children, Not Cats!, He is a mix Boxer/Rottweiler with a little Shar-pie. Neutered, current on all vaccine, and Micro-chipped. He has been through the obedience classes at Topline K9 Solutions!
Senior, Male, Large